The Secret Ezra Master Plan (just between you and me)*
[originally posted on the Ezra blog here]
Our mission at Ezra is to detect cancer early for everyone in the world. To achieve this audacious goal, our plan from Day 1 was as follows:
Step 1: launch a 60-minute full body MRI that screens for cancer everywhere in the body, priced at the high end of the market (that's our Full Body Plus, priced at $2350).
Step 2: use the success of our high end scan to roll out a more affordable 30-minute scan.
Step 3: use the success of the 30-minute scan to create a 15-minute scan priced at just $500, and get payor reimbursement for it.
Today, I'm incredibly excited to announce that we have received 510(k) FDA clearance for the Ezra Flash AI, enabling us to roll out the world's first 30-minute full body MRI. The new AI reduces noise and improves the quality of MRI images, enabling us to create a scanning protocol with twice the speed and same image quality.
Here's an example: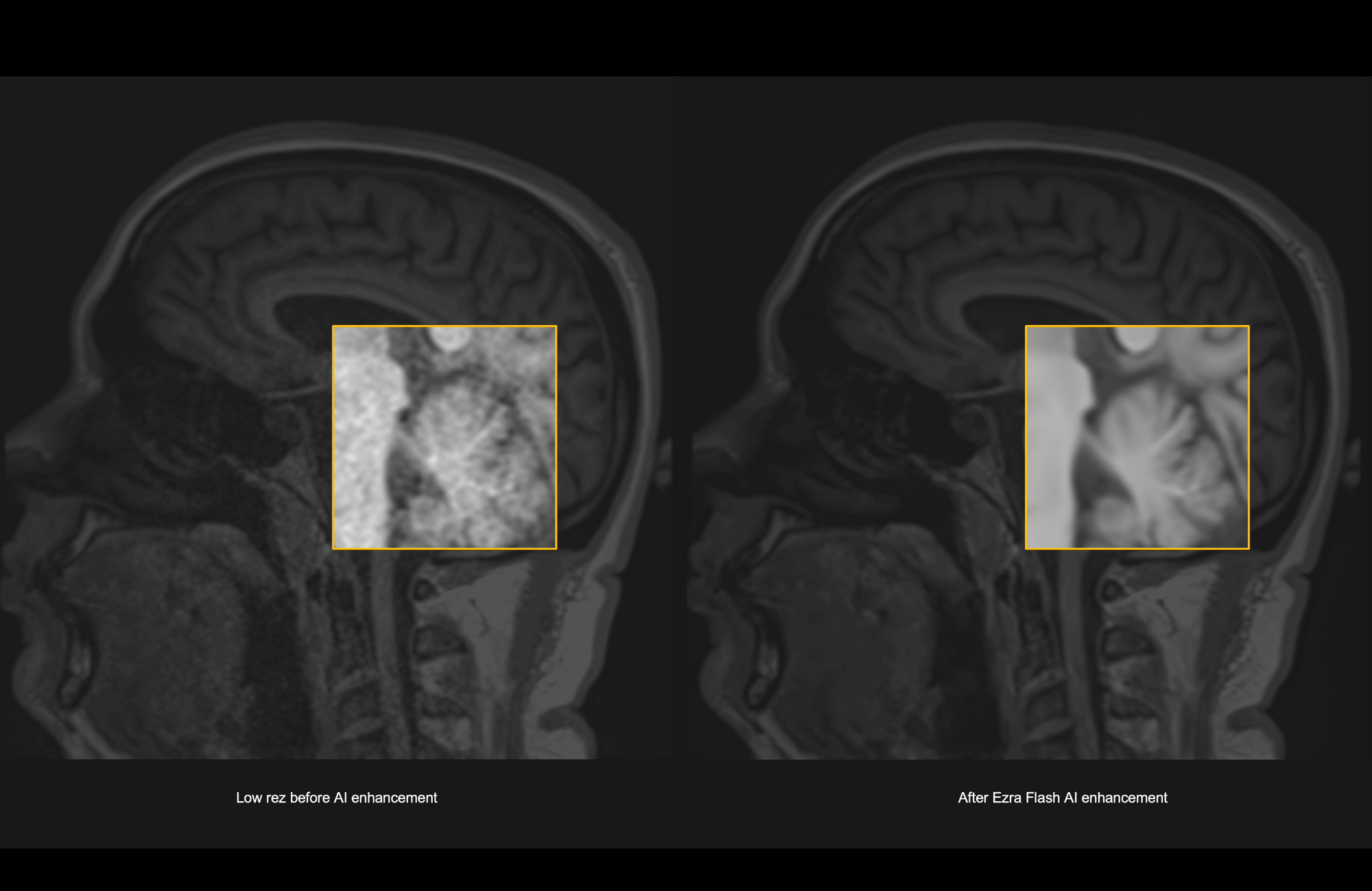 That's Step 2, done. You can now book your 30-minute Ezra Flash Full Body here for $1,350.
It's been 5 years since I started Ezra, so this milestone was as good an opportunity as any to take a step back, reflect, and think about the future. There are three things happening at Ezra that get me really excited about the future.
1. The most advanced AI company in the cancer screening space
Ezra is now the only company in the world that leverages AI across the entire screening process - the scan itself (Ezra Flash AI), the radiology read (Ezra Prostate AI), and the report generation (Ezra Reporter AI). These AIs also sit on top of our own end-to-end cancer screening platform consisting of a custom EHR, booking system, patient portal, imaging viewers, facility integrations, and more. You can learn more about all the Ezra products on our newly launched Technology page.
2. The (data) moat
We have been rolling out an AI each year for the past three years. This is incredibly hard to achieve (most medical startups take 3+ years per AI), and key to our success has been our proprietary dataset of full body MRI data.
Over the past 5 years, we've built the most comprehensive dataset of full body MRI scans ever done in an asymptomatic, screening population. For the geeks reading this - we have multiple terabytes of data across millions of MRI images, from over 5,000 individuals. Roughly half of our members have come back for at least a second annual scan, and some of them are on their third or fourth. This longitudinal dataset enables Ezra to find changes in the body much earlier than we would be by looking at a single data point. We are also continuously gathering downstream data regarding findings from our scans, and diligently collect as much follow up diagnostic scan and biopsy data (when applicable).
To best leverage our dataset, we've also built a number of internal tools to curate, anonymize, and create AI training pipelines. It's still very much work in progress, but our team is currently running experiments at a rate of multiple AI model variations per week.
3. It's all about the team
If you would've asked me 5 years ago what the hardest thing would be in building Ezra, I'd have told you something like product/market fit or scaling the company. Turns out I was wrong; by far the hardest challenge has been building the right team to execute on our mission.
It has taken us five years, but we now have the best team I've ever worked with, spanning from AI to operations to customer success. I've been leading the AI team directly for the past year, and strongly believe we have the best AI and regulatory teams in the cancer screening space. We're also fortunate to have added Dr. Dan Sodickson as our Chief Scientist about a year ago. Dr. Sodickson is the inventor of parallel imaging in MRI, the Chief of Innovations in Radiology at NYU, and has been instrumental in helping us innovate at the rate we have been over the past year.
Where next
What got us to Step 2 is not what's going to take us to Step 3, so our team is hard at work pursuing a number of incredible innovations that are pushing the boundaries of what's possible with MRI. It's still early, but we're seeing evidence that we will be able to achieve a 15-minute full body MRI scan within two to three years.
It's been 5 years since we launched Ezra, and someone now finds potential cancer or other diseases in an Ezra scan almost every week. I'm hopeful that our 30-minute scan will enable more people to be able to afford Ezra, and I'm excited to see what our amazing team will accomplish in the next five years.
In the meantime, you should sign up for an Ezra Flash Full Body.

*For the observant reader, we did indeed have a bit of inspiration for this plan.